REVOLUSI!
Indonesia Independent
Diplomats, freedom fighters, victims, liberators. Everyone has a different view. REVOLUSI! is about the Indonesian struggle for independence (1945-'49), seen through the eyes of people who experienced it. More than 20 personal stories tell us how the ideal of a free Indonesia is fervently pursued; how it is fought over, how it is negotiated, how it is propagated and how the revolution determines human lives.
REVOLUSI! is an exhibition on the impassioned pursuit of a free Indonesia after a long period of colonial domination. And it's an important part of world history.
Artists in the revolution
The revolution was a period of experimentation and creativity for Indonesian nationalists. Artists, in conjunction with politicians, formed a modern revolutionary vanguard. Paintings hung in government buildings to represent the Indonesian revolution. The streets were alive with posters, graffiti and pamphlets. Art served as a political instrument to propagate Indonesian independence at home and abroad. Politically engaged Indonesian artists depicted subjects such as comradeship, leadership, armed combat, the fervour of youth, and militancy. This joint effort by the people of Indonesia established the defining image of the revolution. In the exhibition works are on display by Trubus Soedarsono, S. Sudjojono, Otto Djaya, Basuki Abdullah, Hendra Gunawan, Kusuma Affandi en Henk Ngantung.
Contemporary art commission
Commissioned by the Rijksmuseum, Yogyakarta-based artist Timoteus Anggawan Kusno (b. 1989) is making an artwork especially for the exhibition consisting of objects in the Rijksmuseum collection whose origins can be traced to the colonial period, evoking and giving voice to the decades-long resistance that preceded the Indonesian revolution and the consequences of the colonial experience in today's world.
Objects and loans
The more than 200 objects on display - with loans from Australia, Belgium, United Kingdom, Indonesia and the Netherlands - are witnesses to this turbulent past. From privately-owned keepsakes to paintings loaned out for the first time by Indonesian art collections.
The exhibition includes photographs and documents such as posters and pamphlets that were confiscated by Dutch military intelligence agencies in this period. We are able to exhibit this historical material for the first time through a partnership with The National Archives of the Netherlands.
Loans have been committed by ao Affandi Museum Yogyakarta, Galeri Nasional of Indonesia, Jakarta Art Council, Museum Seni Rupa Jakarta, Museum Penerangan Jakarta, Museum Universtas Pelita Harapan Tangerang, Imperial War Museum London, National Library of Australia, Tropenmuseum Amsterdam, University Library Leiden, Museum Bronbeek Arnhem, The National Archives of the Netherlands, Internationaal Instituut voor Sociale Geschiedenis Amsterdam, Nationaal Museum voor Wereldculturen, Nationaal Militair Museum, and private collections and families.
Book
We published the book Revolusi! Indonesia Independent along with the exhibition. You will read contributions by Harm Stevens, Amir Sidharta, Bonnie Triyana, Marion Anker, Remco Raben, Yudhi Soerjoatmodjo, Aminudin TH Siregar and Anne-Lot Hoek. The cover and design is by Irma Boom Office. The book is published by Atlas Contact.
Curators and cooperation
The team of Indonesian and Dutch curators will bring together stories, historical objects, artworks, propaganda posters, films and photographs that testify to a turbulent past.
The curator's team consists of
Harm Stevens, Curator of History, Rijksmuseum
Amir Sidharta, curator and researcher, Director of Museum Lippo/Museum Universitas Pelita Harapan, Tangerang, and co-founder of Sidharta Auctioneer based in Jakarta
Bonnie Triyana, historian and Editor-in-Chief of Historia.ID, based in Jakarta
Marion Anker, Junior Curator of History, Rijksmuseum
Other contributors are
Timothy Anggawan Kusno, visual artist, based in Yogyakarta
Aminudin T.H. Siregar, PhD candidate in Art History, Leiden University
Remco Raben, professor by special appointment of Colonial and Postcolonial Literature and Cultural History, University of Amsterdam
Sadiah Boonstra, PhD, historian and curator, post-doctoral researcher (VU University), director of PT Culture Lab Consultancy (Jakarta)
Maria Rey-Lamslag, documentary maker, curator and researcher
Elwin Hendrikse, photographic collections specialist at The National Archives of the Netherlands
Beyond Walls, video portraits: concept, production & direction
The exhibition, book and programme are the result of extensive cooperation with a wide variety of experts, including historians, heritage experts, cultural entrepreneurs, artists, writers, theatre practitioners and artists, as well as fellow institutions.
The exhibition design is by Wilmotte & Associés, with graphic design by Irma Boom Office. Duinzand provides advice on the exhibition concept and is responsible for the projections
Programme of events and activities
The exhibition will be accompanied by a programme of events, activities and products exploring the themes and stories more broadly, with room for dialogue about the varying perspectives on this history and about its after effects.
Audio tour and children's book
A free audio tour offering more detailed information will bring the people of the revolution to life. The tour, written by Steven R. Thé, will include historical audio clips, and is available in English and Dutch. For families with children, a booklet with an audio tour is being developed by the children's author Robin Raven and illustrator Gigi van Grevenbroek.

Tour and discussion in the exhibition
Tours will be organized through the exhibition. Guides will also be available in the gallery at weekends to provide visitors with extra explanation on request.

Events around the country
In partnership with programmer and curator Maria Rey-Lamslag and historian and curator Sadiah Boonstra we will present a programme of lectures and discussions with Museum Sophiahof, Indonesian Remembrance Centre (Indisch Herinneringscentrum), Moluccan Historical Museum (Museum Maluku / Moluks Historisch Museum), Museum Bronbeek, Drents Museum and Bonnefanten Museum

Livestream talk shows
Two international talk shows will take place, with guests in Indonesia and the Netherlands, in collaboration with Freeport pork was frozen theatre with historian and curator Sadiah Boonstra and exhibition curator Bonnie Triyana. The interactive events will be streamed online.

Letter-writing workshop
Dido Michielsen, journalist and author of works including the autobiographical novel and play Lighter than me (Lichter dan ik) will give workshops on letter writing on 13 and 27 March, 10 and 24 April and 22 May. The workshops are being held in partnership with the writing school Schrijversvakschool.

Podcast
In a three-part podcast, writer and theatre practitioner Marjolijn van Heemstra will explore the family history of a member of the Rijksmuseum staff who has an Indonesian background, and the impact it has had on them. The family story also appears in the exhibition. The podcast will be broadcast in the history programme OVT and via the podcast channels of the Rijksmuseum and the public service broadcaster VPRO.

Film programme
In partnership with EYE Filmmuseum we will present a programme of film screenings and discussions, taking as its starting point a cinematographic approach to Indonesian and Dutch films on the former Dutch East Indies and Indonesia, with an emphasis on the 1945-1949 period.

Teaching material
Digital teaching material geared to secondary school and college curriculums is being developed in collaboration with our partner ThiemeMeulenhoff.

Rijksmuseum Take-Over
A secondary school class will be invited to create their own exhibition inspired by Revolusi! Indonesia Independent. This programme will be organized in partnership with the Indonesian Remembrance Centre (Indisch Herinneringscentrum).
We thank
The exhibition Revolusi! is made possible in part by the Mondriaan Fund. The appointment of the Indonesian curators Amir Sidharta and Bonnie Triyana has been made possible by the Johan Huizinga Fund / Rijksmuseum Fund. The additional programme accompanying the exhibition with room for dialogue has been made possible in part by vfonds and DutchCulture.
Header image
Three young Indonesians on a street. Two of them are Republican volunteers from Sulawesi, members of the armed youth organisation KRIS, on leave in Yogyakarta, December 1947. Photograph: Hugo Wilmar, Dutch National Archives/Spaarnestad Collection.
Address
Museumstraat 1
1071 XX Amsterdam

Accessibility
Wheelchair access
Guide dogs allowed
Lifts on every floor

FAQ
Free cloak room
Photography allowed
Free WiFi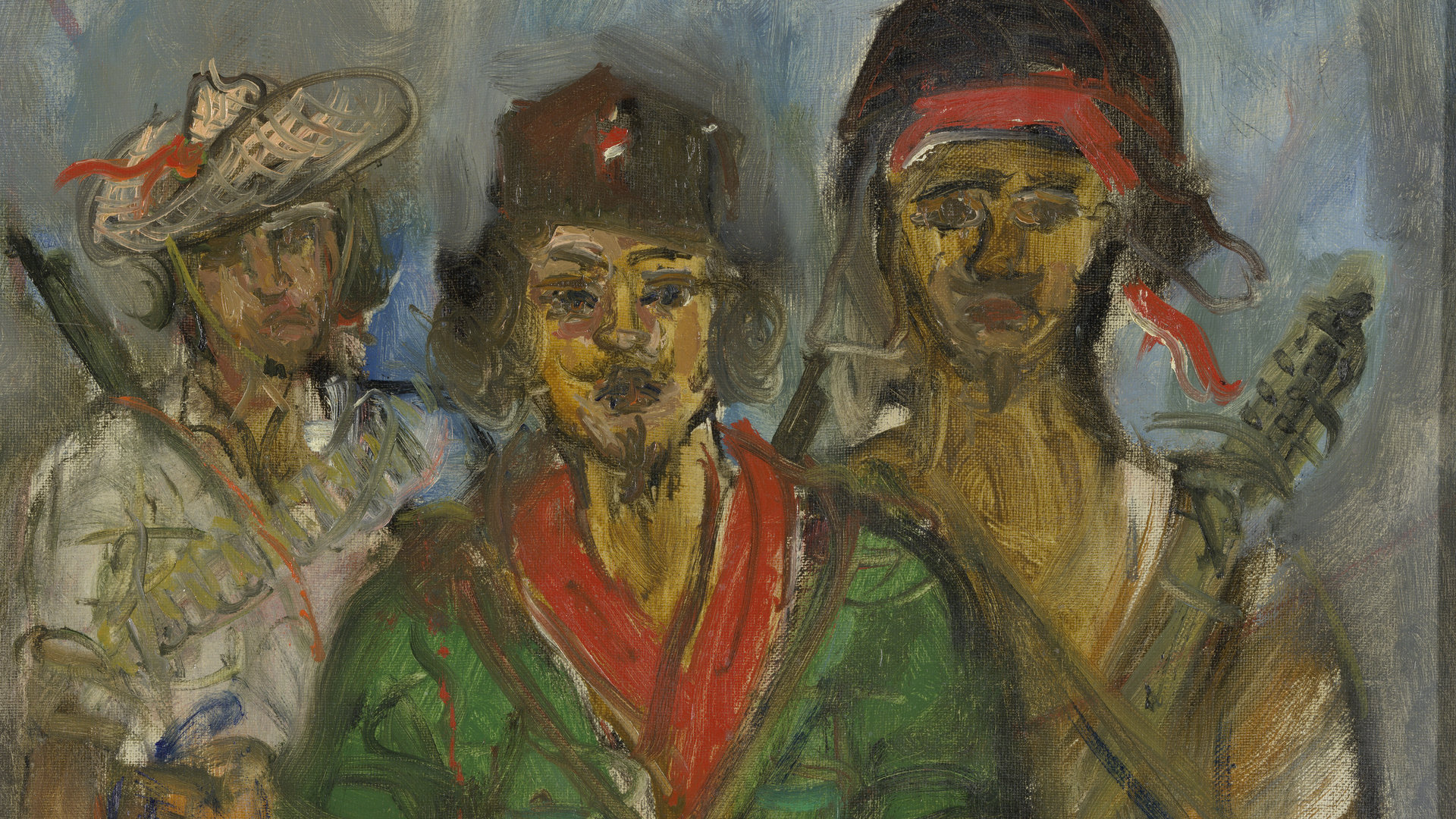 Indonesian freedom fighters, Otto Djaya, 1946-1947. Heirs of Otto Djaya Family/ Rijksmuseum. Purchased with the support of Pon Holdings B.V.
1 | 5

Dress of maps, J. Terwen-de Loos, 1945-1946. Gift of P.A. Terwen, Leiden and J.W. Terwen, Nieuwegein
1 | 5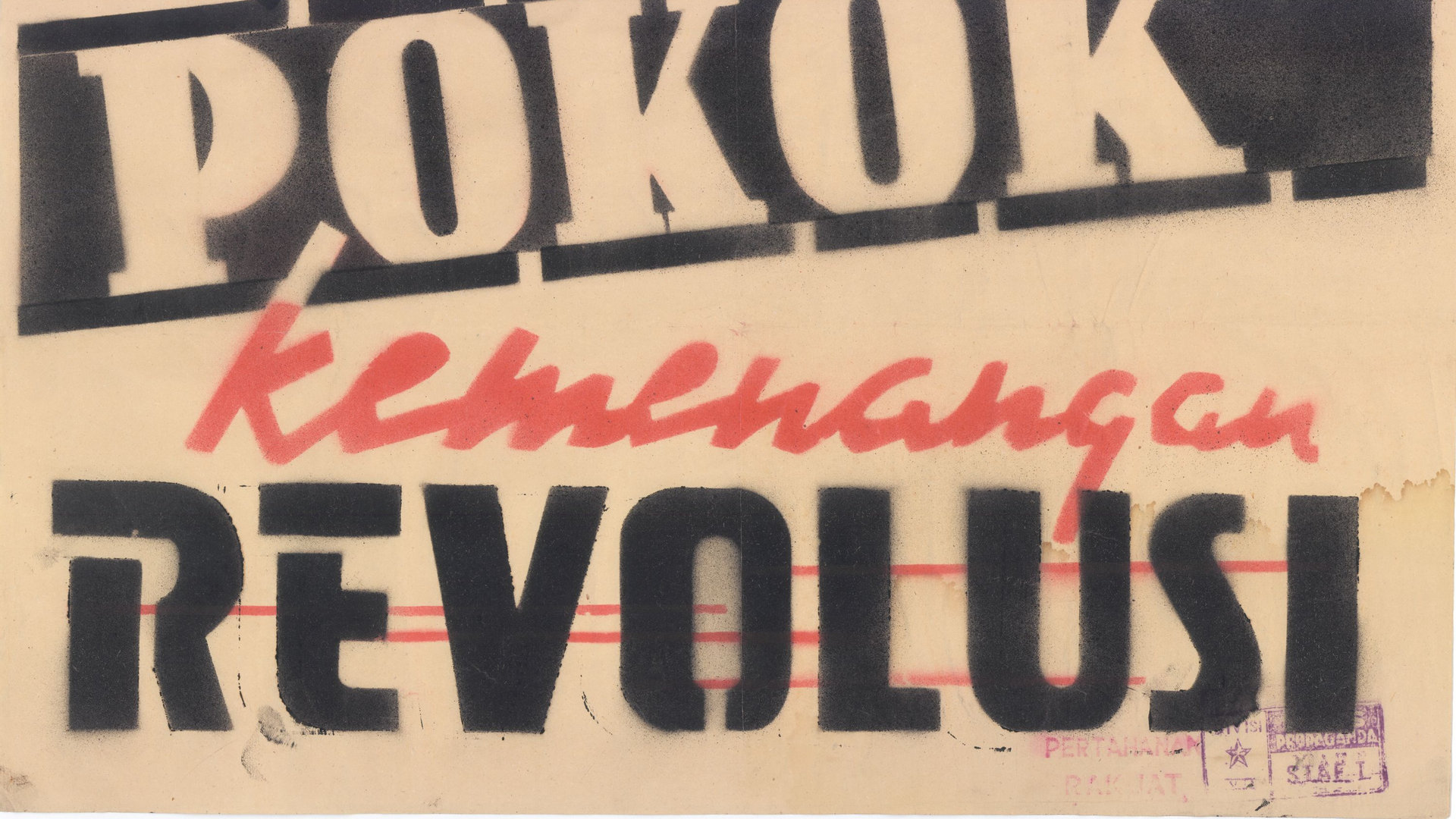 Affiche met opschrift 'Perlawanan seloeroeh rakjat pokok kemenang revolusi', 1945-1949. Museum Bronbeek
1 | 5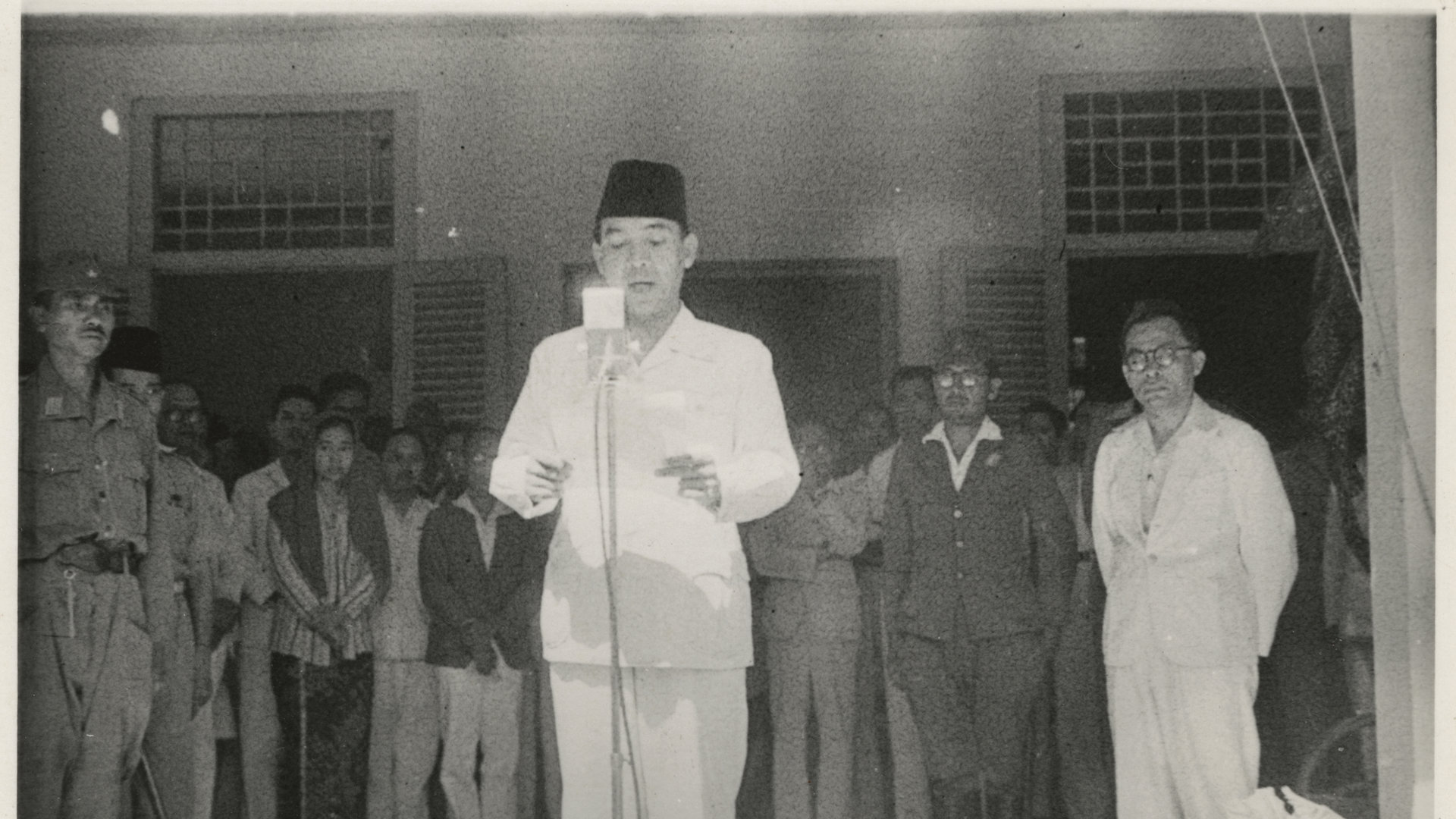 Proklamasi August 17 1945. Photo Soemarto Frans Mendur. Collection F.J. Goedhart/Dutch National Archives
1 | 5

Three young Indonesians on a street. Two of them are Republican volunteers from Sulawesi, members of the armed youth organisation KRIS, on leave in Yogyakarta, December 1947. Photograph: Hugo Wilmar, Dutch National Archives/Spaarnestad Collection
1 | 5
In the Exhibition