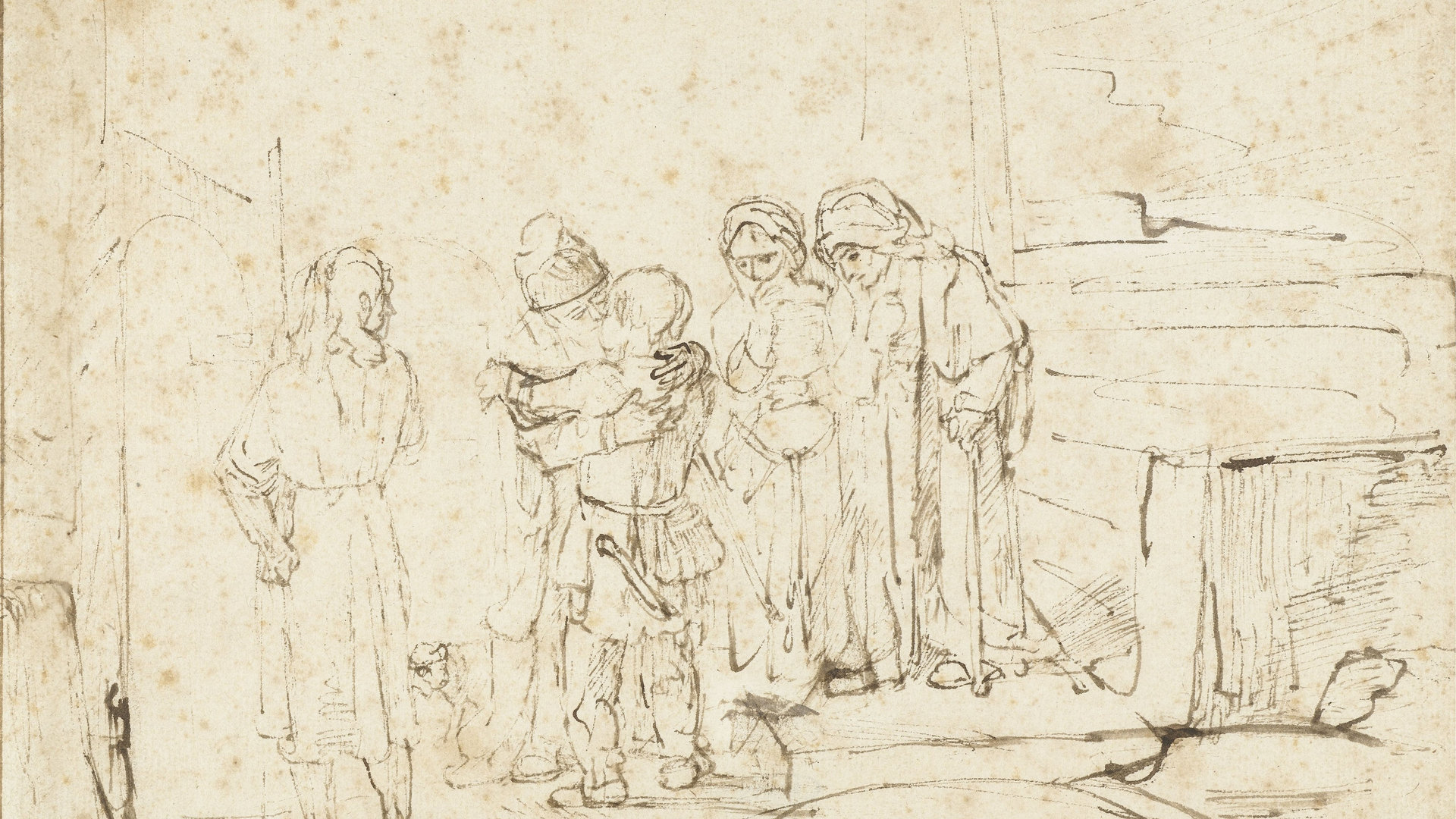 Drawings by Rembrandt and his School
Biblical and genre scenes, figure and animal studies, landscapes and portraits: an impressive selection of 64 autograph drawings by the master that demonstrate his profound skill and interpreting psychological insight, qualities that he passed on in various degrees to his students.
See the works in this catalogue
Drawings by the master

This online catalogue, an update of Peter Schatborn's 1985 collection catalogue Tekeningen van Rembrandt, zijn onbekende leerlingen en navolgers/Drawings by Rembrandt, his Anonymous Pupils and Followers, features 58 sheets in the Rijksprentenkabinet now considered genuine drawings by Rembrandt (1606-1669). With autograph versos, the tally comes to 64 drawings by the master. If our holdings constitute only a fraction of Rembrandt's surviving drawings, they provide a representative selection from his whole career.
The collection

The first seven drawings by Rembrandt to enter our collection – including the genre masterpiece The Pancake Woman – came through the Vereniging Rembrandt, a society founded by private individuals to save works for the nation from the 1883 sale of Jacob de Vos Jbzn. Nearly half of the collection comes from the 1906 donation of Dr Cornelis Hofstede de Groot, briefly director of the Rijksprentenkabinet, whose comprehensive catalogue of Rembrandt drawings appeared in the same 300th anniversary year. His bequest includes Three Scribes (a study for the artist's most important early painting) on the verso of the beautiful Study of a Woman's Legs. The rare early Self-portrait belongs to another major gift, the bequest of Mr and Mrs I. de Bruijn-van de Leeuw, which arrived in 1961. Outstanding purchases in recent decades are the Studies for the Sick Woman in the 'Hundred Guilder Print' and the Cottage with Wooden Paling among Trees, both connected to etchings by the artist. The only acquisition to post-date Schatborn's 1985 catalogue, Portrait of the Actor Willem Bartholsz Ruyter, was completely unknown before a photocopy of it was sent to him for his opinion in 1995.
This online catalogue also includes 28 drawings by unidentified pupils and followers, which can be compared to the work of the master and are intriguing art works in themselves. In the coming months, the catalogue of drawings by Rembrandt and his anonymous pupils will be augmented with texts on drawings by named artists from the school of Rembrandt.
Notes on the use of this catalogue
A pdf with Notes on the use of this catalogue can be downloaded below, along with an overview of the history of the collecting and cataloguing of the Rijksmuseum's paintings. Additional attachments (containing among other things a key to abbreviations) can be found under the section 'Entry' of the entry pages. Each entry page can be found by scrolling down on the artwork page and clicking on 'Catalogue entry' below the image.
Self-portrait with Tousled Hair, Rembrandt van Rijn, c. 1628 - c. 1629
1 | 6
Standing Man with a Stick, Facing Right, Rembrandt van Rijn, c. 1629 - c. 1630
1 | 6
Study of a Woman's Legs, Rembrandt van Rijn, c. 1628 - c. 1629
1 | 6
The Pancake Woman, Rembrandt van Rijn, c. 1635
1 | 6
Bedroom with Saskia in a Canopy Bed, Rembrandt van Rijn, c. 1638
1 | 6
Jael Killing Sisera, Rembrandt van Rijn, c. 1658 - c. 1659
1 | 6
Works in the catalogue